Father Knows Best? - Old Time Radio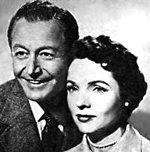 Robert Young & Jane Wyatt
Father Knows Best was a popular radio series before making the transition to the boob tube. The show symbolized the good days of the 1950s, portraying the ideal American Father, insurance salesman Jim Anderson.  The show as a colaboration between Young and producer Eugene Rodney, who knew that moral lessons were part and parcel of the show.
About This Site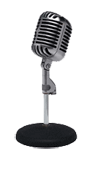 Vintage Radio Shows.com makes available over 30,000 episodes of the best Old Time Radio broadcasts of days gone by! We have OTR MP3 shows to download and enjoy without any hassles, we guarantee it. With our Free 3 day no risk trial and our money back satisfaction guarantee you can be assured that you've found the right place. But we are not just the place for Old Time Radio Shows - don't forget the old cartoons, movie serials, newsreels, silent comedies of yesteryear. Remember Felix the Cat? The Little Rascals? Flash Gordon? Vintage Radio Shows.com is the site where you can get all that great old entertainment and classic radio programs - all for less than the cost of a single movie ticket.
Risk-Free Membership
Vintage Radio Shows.com provides the most cost effective membership online at $7.95 per month. And with our limited time 3 day free membership option you can 'try before you buy'. Your card will not be charged for 3 days and you can cancel without paying anything.
So whatcha waitin' for? sign up here and get to downloading!
Recent Comments
"I can't tell you how much I'm enjoying your site! I have an MP3 player that I use exclusively for old radio shows. I was signed up w/another service and had nothing but nightmares - I could never write a CD or put the cuts on my MP3. I have had absolutely no problem with your site and I love it!

Thanks for making these available."

E. Owens

You Get Both Radio & Movies in one Membership
With just one membership you get access to 30,000+ Vintage Radio Shows and over 200 Vintage Video Classics at the same low price of $7.95 per month, that is less than the cost of a movie ticket! No other site has this combination of Vintage entertainment.
We'll Keep You Happy
You have our guarantee of satisfaction. We will refund your current subscription fee if you are dissatisfied with the site for any reason. Memberships are self-renewing but canceling is easy.